Canine Lodging
Each guest will reside in a private condo or suite: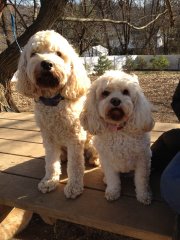 * Suites and Condos vary in size depending on the
size of the guest
* Stereo system with speakers set up all around the
suites to provide
calming music to our guests.
* Interior is designed to absorb noise
* Community Condos available for small pets who enjoy
socializing
* Bedtime Treats
* Minimum of 4 exercise periods per day
Feline Lodging

* Custom built condos with multiple activity levels
* Outdoor views of feathered and furry friends makes
daydreaming easy
* Frequent personal interaction with staff
* Bedtime treats
* Single level senior condos are available too!
Pricing Guidelines

Overnight Lodging:
* Canines - 1 to 20 lbs. $ 30.00/night
* Canines - 21 to 45 lbs. $ 35.00/night
* Canines - 46 to 75 lbs. $ 40.00/night
* Canines - 76 to 110 lbs. $ 45.00/night
* Canines - 111 to 150 lbs $ 50.00/night
* Canines - 151 lbs + $ 55.00/night
* Felines $ 18.00/night
* Small Caged Animals $10.00/night

20% discount for multiple family guests staying in the same suite or condo
*Additional 10% given when pet(s) board 6-10 overnights and an extra 20% given when pet(s) board 11+ overnights.*

Required Vaccinations for Guests
Canine: Rabies, Bordetella, and DHLPP
Feline: Rabies and FVRCP
Canine Day Camp

Our Canine day camp program was created for canines who spend long hours alone at home due to family schedules, canines with special needs, or those who simply love interaction.
Day Camping is available Monday-Friday 7am-6pm. The price for day care is $20/day for any stay over 6 hours and $10/day for any stay under 6 hours; you may also purchase a 10 day package for $140. Card good for 30-45 days from date of purchase.
Please check out our Doggie Day Camp page for more information or our Facebook Page to see pictures of our day campers at play!
In-Home Pet Sitting
Please visit our In-Home Pet Sitting page for more information and pricing!
Salon and Spa Services

Healthy skin and beautiful coats are the goals of our
grooming staff. We provide the ultimate in grooming experiences in a relaxing and friendly environment. Specialty and all natural shampoos and conditioners are available. Therapeutic massage will be offered in the very near future. Please check out our Professional Grooming page for more information.